Welcome to Student Affairs
Student Affairs at Minnesota State University, Mankato strives to provide excellent services and programs to support student learning. Through partnerships with students and faculty, we aim to create a student-centered environment that fosters student exploration, leadership and the development of both big ideas and real-world thinking. Our entire campus is a learning laboratory where our students find they are able to go further than they thought possible.
Student Affairs has the great pleasure of working closely with some of the most incredible students and faculty, whose big ideas are making a difference both here on campus and in the world as well. We hope that you will share your big ideas for making the world a better place with us as well; send us a note at student-affairs@mnsu.edu and tell us what you're thinking about.
Thanking you for learning more about Student Affairs at Minnesota State Mankato. We wish you all the best.
Respectfully,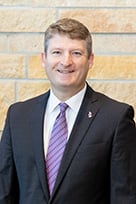 David P. Jones, Ph.D.
Please share your Big Idea with us at student-affairs@mnsu.edu!
Minnesota State Mankato's Mission
Minnesota State University, Mankato promotes learning through effective undergraduate and graduate teaching, scholarship, and research in service to the state, the region and the global community.
Student Affairs advances the mission by:
Fostering learning and development
Supporting student success
Preparing students to be leaders in a global society