What is Microsoft OneNote?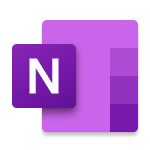 Microsoft OneNote is a digital notebook for free-form information gathering and multi-user collaboration. Notes can be shared with other OneNote users via link or adding them as collaborators to the notebook. OneNote gathers:
Notes and drawings,
Screen clippings and photos,
Audio commentaries,
...and more!
Log in to MavMAIL to access OneNote
What is a OneNote Class Notebook?
OneNote Class Notebooks are digital notebooks you can use for collaborative teaching and learning. When you create a class notebook, it includes three types of sub-notebooks:
Student Notebooks — private notebooks that are shared between each teacher and their individual students. Teachers can access these notebooks at any time, but students cannot see other students' notebooks.
Content Library — a notebook for teachers to share course materials with students. Teachers can add and edit its materials, but for students, the notebook is read-only.
Collaboration Space — a notebook for all students and the teacher in the class to share, organize, and collaborate.
Resources & Support for onenote
Teacher Guides
Resources For Everyone
First, use your MavMail credentials to access your free LinkedIn Learning account through the University
Then click to browse and learn how to use OneNote tools and features in these video courses:
OneNote Essential Training on LinkedIn Learning
OneNote Quick Tips on LinkedIn Learning
Find Microsoft OneNote
Login to your MavMail account on any web browser with your Star ID credentials.
Click the waffle icon in the top right corner.
Locate OneNote from the drop down.
If you do not see OneNote, click the Office 365 arrow link at the top right of the menu to see more apps.