Students
MavCONNECT is a student success platform designed to connect current students to the people and services that are here to help you succeed.
MavCONNECT helps you:
Easily create virtual appointments with advisors, professors, and staff members
Stay alert about important deadlines, to-dos, and holds that could impact your ability to register
Stay connected by creating study groups
Explore careers that fit with goals
Students can access MavCONNECT via a mobile app or desktop login.
Scheduling in MavCONNECT
During your first login, you will be directed to complete a short intake survey so we can better serve you. Once this intake survey is complete, you'll have access to a personalized menu of support resources to help you navigate your college experience.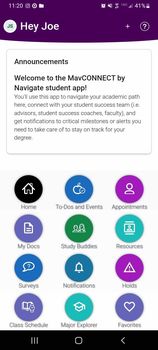 You'll find that MavCONNECT has a lot of resources, tools and information pulled into one spot to help you navigate your time as a Maverick. Click below to see a sample of the featured items that you can explore and use!
Learn More
All Done!
To-Dos & Events
To do's will show up as checklist items and ensure you don't miss important deadlines: Registration preparation, Financial Aid and Scholarship information, Graduation requirements, Registration Hold-related items, etc.
Events are campus-wide or tailored to you based on your responses to the intake survey! They include Welcome Week activites, Career Fairs, Advising Open Houses, etc. and are shared to keep you connected to each other and to campus support systems!
Appointments
You can schedule appointments with advisors, faculty, and success coaches who have availability posted within MavCONNECT. You can also view past appointment information and see upcoming appointments.
Resources
Wondering about where to find things on campus, on our website, or who you need to contact for help? The Resources tab has everything you may need! You'll find information on tutoring, financial aid support, registration and advising, and beyond here. It is all here!
Holds Center
In the Holds Center, you will see any holds on your student account which impact registration or impact your student experience. If you have a hold, you'll find instructions on how to address and remove the hold in MavCONNECT.
Students can make appointments with anyone in their Success Network if that faculty/staff member has set up availability. Students can schedule appointments through the Appointments tab of their MavCONNECT mobile app or desktop site. Note the following workflow shows the process through the desktop site.
Learn More
All Done!
How to download and access the MavCONNECT by Navigate Student app
In your device's app store, search for "Navigate Student"
Once downloaded, open the app (may be listed as Navigate) and search for "Minnesota State University, Mankato" at the top of the screen.
Log into the system using your @go.minnstate.edu credentials and complete the multifactor authentication.
A short intake survey may open upon your first login to the system. Please complete this and then you are set to use the tool!
Access MavCONNECT via your desktop here: https://mnsu.navigate.eab.com/app/
Step-by-Step Quick Guide on Appointment Scheduling