MavPODs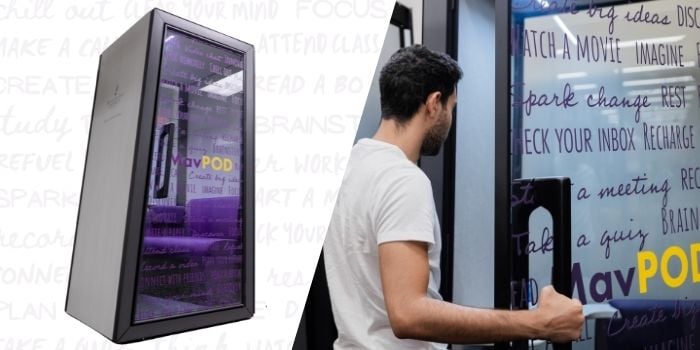 MavPODs are available all around campus for student, faculty, and staff use. Asemi-private, comfortable, and convenient place to study, make a call, recharge, and more between classes or meetings.
Enjoy personal space to focus while maintaining social distance and COVID-19 safety. 100% funded through the American Recovery Act.
---
How Can I Use Them?
No reservations required, just find an empty MavPOD and...
Transition between physical and online classes
Study or do virtual group work
Make telehealth or other personal calls
Have virtual advisor meetings
Record video or audio for class projects
Sit back, relax, and recharge
And more endless possibilities!
Other Features
Comfy chair and desk
Soft lighting
Plugins for power
Sound-buffering for privacy
Fan for airflow - air is completely circulated every three minutes
Larger MavPODs Available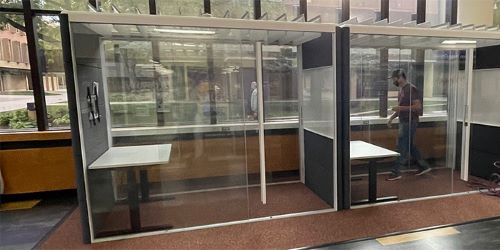 These larger MavPODs are more spacious and offer room to walk in and move around. They are fully accessible. See MavPOD locations listed below for locations.
Looking for other accessible options? Fully accessible study rooms are also available in Memorial Library and on the second floor of the Clinical Sciences Building.
Image Gallery
---
MavPODs are cleaned routinely as part of the routine building cleaning protocols. There are several surface sanitizers available across campus (in most classrooms, offices, etc.) as well if you would like to clean the surfaces before using a MavPOD.
MavPOD Locations
Want to see another location added? Request a location.
Armstrong Hall

First floor: 4
Second floor: 4
Third floor: 3

Carkoski Commons
Centennial Student Union

Lower level: 1
First floor: 1

Clinical Sciences Building

First floor: 1
Second floor: 3
Third floor: 2
Accessible study spaces available on the second floor.

Ford Hall

Second floor: 4
Third floor: 3

Memorial Library

Lower level: 6
First floor: 11 (one large MavPOD, fully accessible)
Third floor: 10
Accessible study spaces are available.

To check availability and open locations, visit the Memorial Library's Circulation Desk (by the entrance) on the first floor or call 1-507-389-5931.

Morris Hall

Second floor: 3 (one large MavPOD, fully accessible)

Myers Field House

First floor: 5 (one large MavPOD, fully accessible)
Second floor: 10

Nelson Hall
Performing Arts Center
Preska
Wiecking Center
Wigley Administration Building

First floor: 1 (three large MavPODs, fully accessible)

Wissink Hall

First floor: 11 (one large MavPOD, fully accessible)